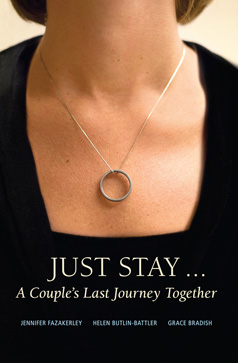 Media/Press
Radio Interview With Authors. (November 04, 2012)
Article in the The London Free Press. (September 26, 2012)
Article in the London Health Sciences Center. (September 26, 2012)
Article in the Norwich Gazette, which profiles the book. (September 17, 2012)
---
MEDIA ADVISORY
For Immediate Release:
September 24, 2012
JUST STAY...A Couple's Last Journey Together
Book Launch
LONDON, Ontario – When Rob Fazakerley, a physiotherapist at St. Joseph's Health Care London's (St. Joseph's) Parkwood Hospital received a terminal diagnosis for metastatic cancer of the pancreas at London Health Sciences Centre's (LHSC) London Regional Cancer Program he and his wife Jennifer accepted the reality of his diagnosis and focused on living each day to the fullest.
JUST STAY...A Couple's Last Journey Together is a story about accepting a life altering terminal diagnosis and maximizing the amount of time a couple has left. "Rob demonstrated an attitude and way of living with a terminal diagnosis of cancer that was unique. His acceptance of the diagnosis and focus on those he loved was beautiful," says Jennifer.
The story is chronicled through emails Jennifer sent to the couple's support system titled "Rob's Updates." The book is co-written by Helen Butlin-Battler, chaplain, LHSC and Grace Bradish, nurse practitioner, South West Community Care Access Centre, who supported Jennifer and Rob from diagnosis through the grieving process.
"The book captures Jennifer and Rob's personal story of receiving a terminal diagnosis and creating a legacy of love and hope with those you love," says Butlin-Battler who specializes in providing non-denominational spiritual care services to oncology patients at London Regional Cancer Program.
Bradish provided symptom management support to Rob and exchanged approximately 300 emails with Jennifer. She sent back her correspondence to Jennifer to help with her bereavement process. "Buried in those emails was great emotion and self-reflection that is helping Jennifer to heal, and will help others take a different perspective of hope and finding joy and pleasure in the present moment." To celebrate the book's publication, LHSC and St. Joseph's are hosting a book launch at Parkwood Hospital, where Rob was a physiotherapist. Media is invited to the launch which will feature readings by the authors.
Date:
Tuesday, September 25, 2012
Time:
5:00 – 8:00 pm, Introductions and book reading at 5:30 pm
Location:
Parkwood Hospital (auditorium)
801 Commissioners Road East, London, Ontario.
---
About London Health Sciences Centre
London Health Sciences Centre has been in the forefront of medicine in Canada for 136 years and offers the broadest range of specialized clinical services in Ontario. Building on the traditions of its founding hospitals to provide compassionate care in an academic teaching setting, London Health Sciences Centre is home to Children's Hospital, South Street Hospital, University Hospital, Victoria Hospital, two family medical centres, and two research institutes – Children's Health Research Institute and Lawson Health Research Institute, a joint research initiative with St. Joseph's Health Care, London.
As a leader in medical discovery and health research, London Health Sciences Centre has a history of over 50 international and national firsts and attracts top clinicians and researchers from around the world. As a regional referral centre, London Health Sciences Centre cares for the most medically complex patients including critically injured adults and children in Southwestern Ontario and beyond. The hospital's nearly 15,000 staff, physicians, students and volunteers provide care for more than one million patient visits a year. For more information visit www.lhsc.on.ca
About St. Joseph's Health Care London
St. Joseph's Health Care, London is a major patient care, teaching and research centre with a distinguished legacy of service to London, Southwestern Ontario and the veterans of Canada, dating back more than 130 years. St. Joseph's five key role areas include acute/ambulatory care, complex care and veterans care, long-term care, rehabilitation and specialized geriatrics and specialized mental health care. Facilities and services including St. Joseph's Hospital, Parkwood Hospital, Mount Hope Centre for Long Term Care and Regional Mental Health Care London and St. Thomas are part of the St. Joseph's family. Our research arm, the Lawson Health Research Institute, continues to direct their research to the development of new knowledge that is continually being applied directly to patient care. More than 400,000 patients annually receive care from close to 6,000 physicians and staff at St. Joseph's. St. Joseph's is affiliated with the University of Western Ontario.
For media inquiries contact:
Anne Kay
St. Joseph's Health Care London
Communication & Public Affairs
519-646-6100 ext. 42470
anne.kay@sjhc.london.on.ca

Marek Kubow
London Health Sciences Centre
Corporate Communications & Public Relations
519-685-8500 ext. 75155
marek.kubow@lhsc.on.ca

After-hours assistance:
Call St. Joseph's switchboard at 519-646-6100 and ask to page the communicator on-call.
Call LHSC Switchboard at 519-685-8500 and ask to page the communication consultant on-call. www.lhsc.on.ca/media